Sleeping during a workweek is important! so this image was made unattended – counting on good luck. At the start of the session around midnight the sky was still covered with some high cirrus. At least the street lighting was already switched off.
Image data: Nikon 180mm tele F5.6, no filters, 82x180seconds or about 4 hours of data. It proves the interstellar nebulae are also visible from light-polluted area's without the use of filters.
I did not use any external filters, since these affect image quality. With 180 seconds and 800 ISO, the light pollution was substantial and flooded the image. So I used ISO400 instead, and also trimmed down the aperture to F 5.6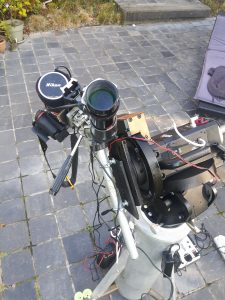 The light pollution reflected in three frames (also including cirrus passing by), the first setting F5.6 and ISO400 was used. I wanted to keep the 180seconds to re-use previous darks.