When astrophotography is your main objective, there is no escaping electronic focussing. The advantages are clear:
very precise and consistent focussing
autofocussing via tooling like Sequence Generator Pro or others
no guessing the exact focuspoint
no induced vibrations due to manual focussing
automated sessions, unattended
reproduceable focus positions depending on the scope optical configuration
PEGASUS CUBE 2.0
in use with the Esprit 120mm
worked out-of-the-box
no issues connecting with SharpCap or SGP
a bit of a DIY mechanical construction to bolt it to the telescope, not very elegant but it works
when using the Esprit120 with the SW flattener, the focusser needs to be extended almost all the way out. Near the end of the drawing tube the electronic focusser does not seem to have grip all the time. I got some irregular V-curves on my autoguiding. So I'm looking for an M74 extension or an M65 extension to solve that issue.
when using the Esprit with the TSRED 3″ reducer, there is no issue as the fosusser is much less travelled outwards.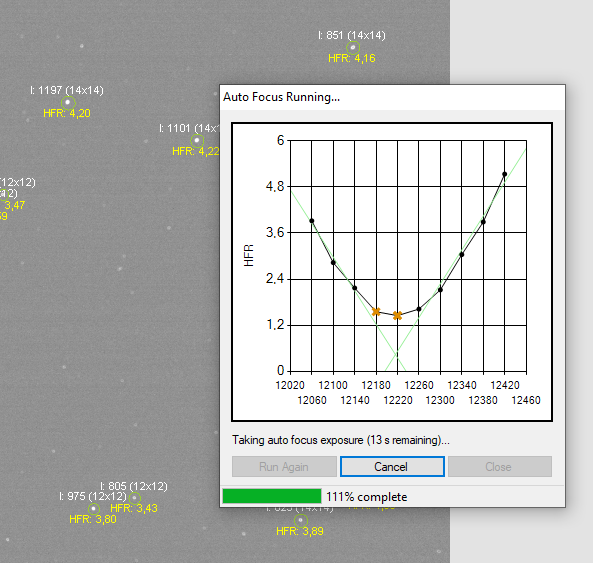 ZWO EAF
in use with the SharpStar 76EDPH
worked out-of-the-box
love the beeps that indicate that the focusser runs at the end or there is an overload
no issues connecting to SharpCap or SGP
ESATTO 2″ PRIMALUCELAB
in use with the C11 with or without the F7.2 Starizona LF reducer
allows focussing with almost zero image-shift (there is a little bit)
powered by USB3 if your port delivers enough amps
installation did not go smooth: as drivers did not get installed, the focusser made noise but did not move. That was very confusing. I ended up deleting everything and re-installing.
backfocus is extremely important when using this in combination with the Starizona reducer/flattener. There is 132mm to use by all equipment after the reducer. The focusser takes already almost 70mm. So you can add a OSC with an OAG, but as an example an OAG and an filterwheel and a B/W camera becomes difficult and will require a lot of puzzling.
the 15mm travel is more then enough for astrophotography as you use the original SCT focusser to do a first focus